By Christie Costello, Communications Coordinator
The 2017 Vineyard National Conference: Together Leaning Outward will be remembered as a time when God really ministered to his people and called us to move outward and do it together. During the week, we experienced deep theological teaching, intense worship, impactful prophetic prayer ministry to each other, and times of refreshing. Many new faces took the stage and the speakers, according to Phil Strout "knocked it out of the park." All of those leading and serving during the week poured out their lives to the Lord and blessed us as a tribe. The Holy Spirit moved among us from the children to the most "seasoned", or from the "cradle to the sage." In addition to the enriching main sessions and panels, pastors and leaders made so many much-needed connections all over the room - every room, and every meeting. There were side meetings held by Multiply Vineyard, VJN, VI, Vineyard Women, just to name a few, and of course, Vineyard Missions.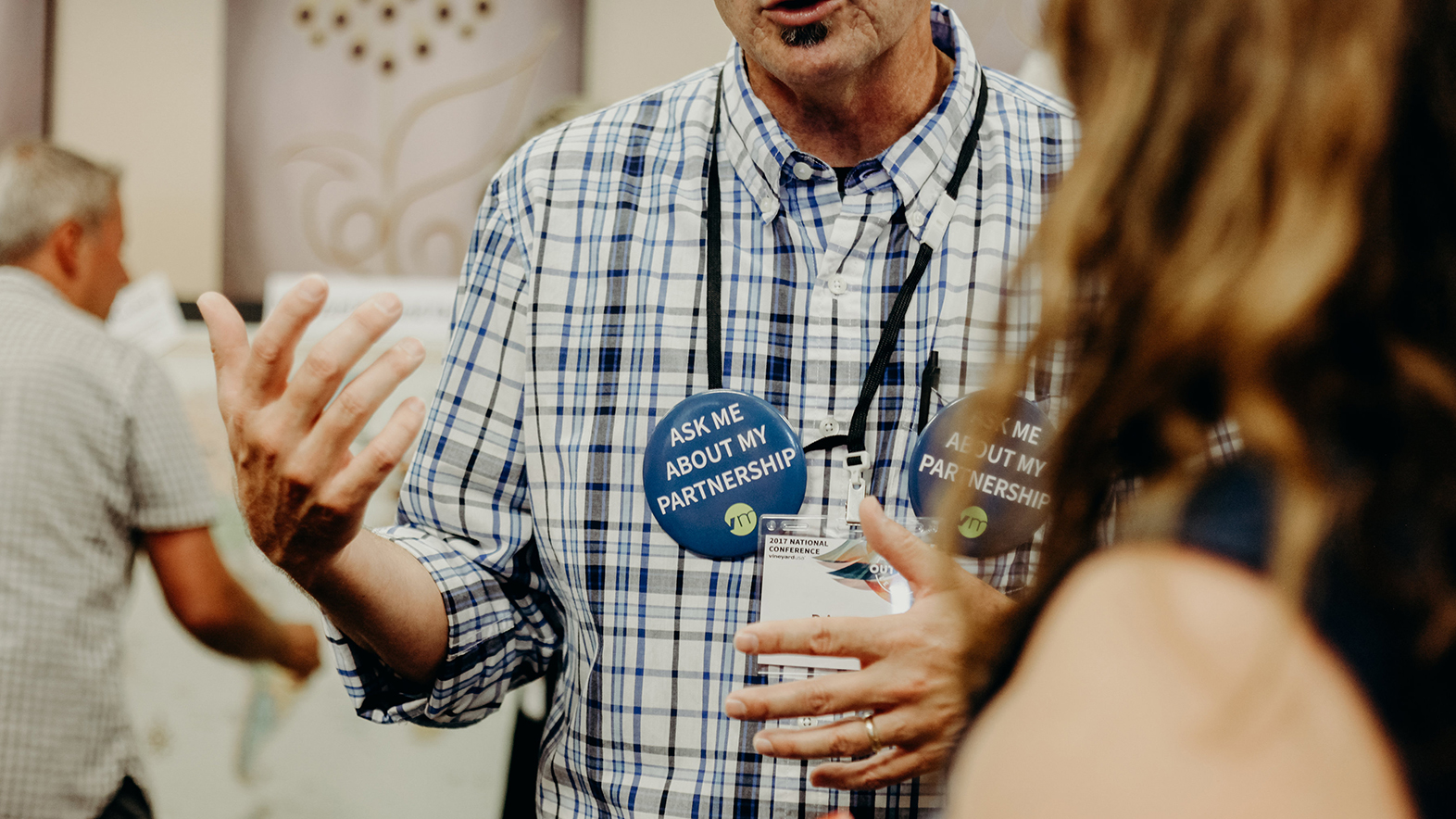 In the missions realm, several partnerships had connection meetings, and we had an Around-the-World Reception on Wednesday afternoon that was packed to the gills. It was a home run of a reception like Vineyard Missions hasn't seen before. The turnout was even better than we had envisioned! The energy, the excitement sizzled in the air as 150-200 people crammed into the study (and overflowed into the lobby and coffee shop!) in meaningful conversations about how to get involved in God's mission in the world. While location and being on people's "flight-path" out the door helped facilitate a great elbow-rubbing meeting, it really came down to the invitations. The Partnership Leaders and Missional Leaders Team did a great job of inviting people in the days leading up to the Wednesday afternoon event. They handed out invitations and came back for more to give away. And before conference week even started, 70 people had already registered to attend the reception through social media buzz, so interest was high. Word spread well!
We had some "introvert-friendly" activities, like pinning missions nations on a map and sharing missions stories on a storyboard. We gave away hundreds of dollars in gift cards, books, and T-shirts; and six of our Vineyard USA pastors won trips to different countries all around the world! There were both savory and sweet snacks available to entice some and to be a filler in an awkward conversation, but Vineyard folks didn't seem to need them for filling up talk time. The buzz of meaningful conversation filled the room, which at some points was literally shoulder-to-shoulder. What an amazing problem to have - so many people interested in talking about missions!
God seems to be stirring up a new level of interest among Vineyard churches that have not been involved previously. We received multiple feedback reports of "many fruitful conversations," "divine appointments," and "new conversations started." One partnership leader told us,
As I spoke to people about all that is going on in Brazil with Xingu and the experiences from our many short term trips, I found myself both excited and grateful to God for all that he's doing!...Regarding the reception, at first it was a little overwhelming. So many people! But as I jumped into conversations it quickly became a blast. And the food was excellent!!
~ Michael Hanson, Brazil Partnership Leader
And another PL shared,
Thanks for the opportunity to connect with people at the conference…[I] had a divine appointment with a girl who had a dream of holding a baby in Indonesia. She is someone who had personally been trafficked in the past and wants to work with kids who have been trafficked or to prevent it from happening. She immediately came looking for me and had a chance to meet Loudy [the national leader in Indonesia] too. She hopes to join a team next summer to spend some time at the orphanage in Jakarta… [I had] some pretty significant conversations.
~ Jim Barnett, Indonesia Partnership Leader
That is music to our team's ears, because that was the whole purpose of this reception, and really why we even exist as a team - to be a resource and connecting point that serves pastors, church-planters, leaders, and missions partnerships.
Don't leave behind the momentum that began that Wednesday afternoon. Let's keep engaging in discussions of all that God is already doing and how to go even further in joining Him in His mission around the world. Talk about it from the pulpit, at leader and committee meetings, at area and regional meetings - any time you are with Vineyard people. People want to talk about this. That is the incredible season we are in. God is on the move in the hearts of his people. And for those of you who are already in missions partnerships: if God whispers a pastor's name to talk to, don't postpone for a less busy season (there isn't one!), call him or her, and extend an invitation. Keep inviting and see the fruit God brings.
Hopefully, we'll do this again at our next national conference in 2019. We look forward to needing to look for a gigantic location to accommodate the number of people who want to be there!
Christie has been part of the Vineyard since 1996. In 2004, Christie and her husband, Chris, were part of the team that launched out to plant the Neighborhood Vineyard in Rancho Cucamonga, California where she later pastored for a few years. Christie has been on the Vineyard Missions team since 2008, specializing in event and meeting planning, travel coordination, and special projects. Getting to utilize more of her business degree, she is now leading a team of marketing and organizational professionals in building effective communications support structures for Vineyard Missions. Chris and Christie have been married for 19 years and have two adorable doggies, Lucy and Lexi.